Perlan Project's all-volunteer team has made incredible preparations to get ready for Argentina. Each week additional team members have journeyed to Minden to join the core team. In the past few weeks we have hosted CEO Ed and Linda Warnock, Miguel Iturmendi, Alan Murray, and Armistead Sapp. These are the second round of visits for each this Spring! Michael Batalia and Mike Malis came earlier in the year. They augmented the Minden team of Jim and Jackie Payne, Morgan and Sandra Sandercock, Tim Gardner, Stewart and Elizabeth Tattersall. The synergy of combined talents really boosted our accomplishments. All our volunteers contribute in so many ways to make sure Perlan safely soars. This blog is an ode to what dedicated volunteers can accomplish – the people and the systems.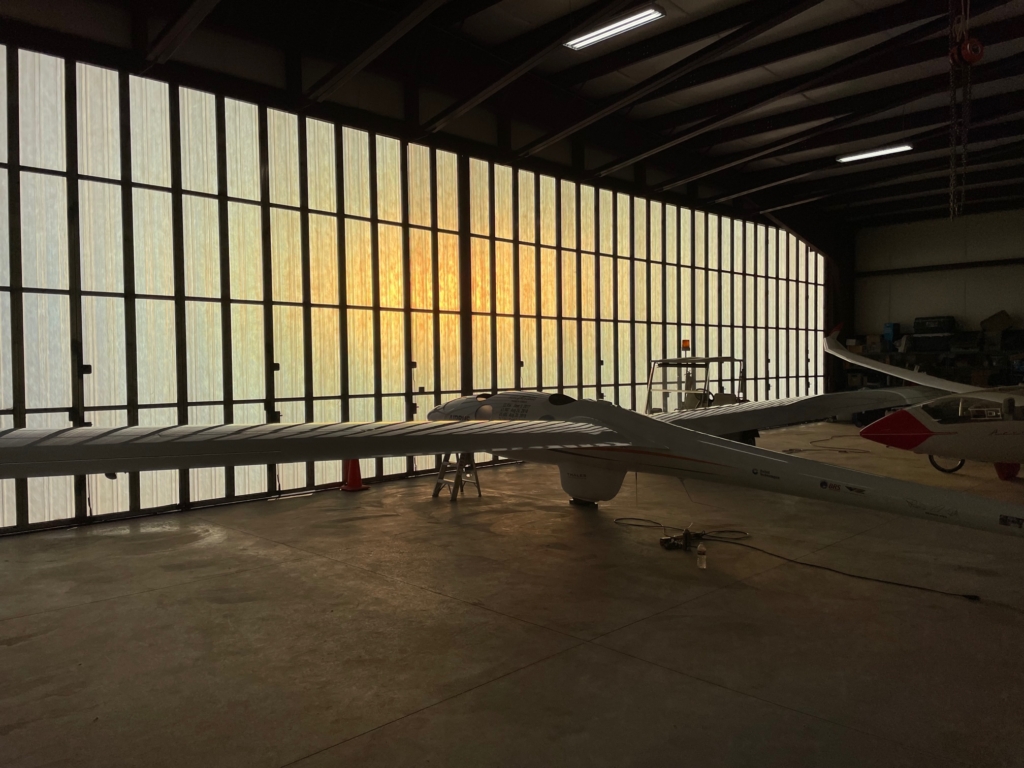 Miguel Iturmendi led the charge to shoehorn a bigger Battle Born battery into the science bay. They created an insulated box so we now have 200amp hours rather than 150 Ah. It will allow longer heated clothing usage plus (drum roll….) power for our new satellite connectivity. There will be a future blog just on the new Thales-Iridium-Videosoft partnership to bring our Perlan fans "along for the ride." Miguel also interviewed candidates for an intern position. He is in charge of the rebreather system; he cleaned, replaced expired parts and inventoried the critical supplies. He tested the emergency O2 system, found and fixed a leak by tightening a fitting.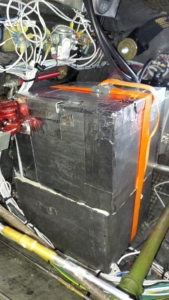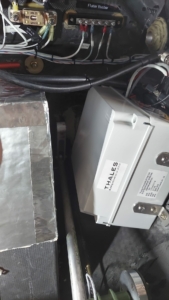 The new Battle Born Battery is between the red brake actuator and control linkage. The Thales satellite communication box is attached to the outside. All are under the wing spars when assembled.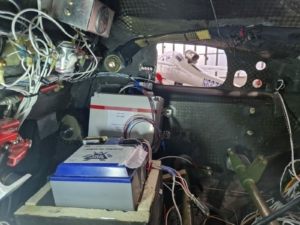 Jim Payne and Morgan Sandercock spoke with Heinrich Meyr, the creator of the latest LX Nav vario firmware called HAWK, at the SSA convention in February.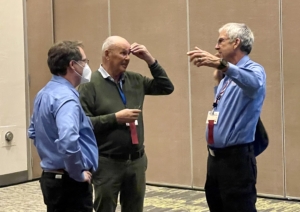 HAWK is GPS inertial nav based, not pressure based. That is perfect for Perlan in the stratosphere! With so few air molecules above the tropopause any pressure based vario is challenged.  Our LX-9000s are exclusive High Altitude models that the SSA donated back in 2015. No way to replace them with the new generation LX. So Jim and Miguel requested a donation of a S10 and license to be the biggest, baddest, "highest flying HAWK" the world has ever seen! Thanks to LX and Craggy Aero for facilitating the donation. The parts that arrived this week were installed by Stewart, Morgan and Tim. Just the simple Outside Air Temperature sensor is a huge deal for us. It has to be outside (obviously) then come through the pressure bulkhead passthrough into the cockpit area. Can't wait to see it in action!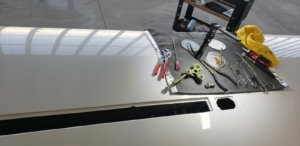 We were not completely happy with the rigging of the Perlan 2 glider. Our new A&P Tim Gardner (aka Glider Doctor) has fine tuned bell crank clearances, measured aileron deflections and stick position, improved spoiler movement and locking. Tim found and replaced a spoiler connection that was damaged.  He was assisted in his surgery by Morgan, Stewart, Jim and Mike Malis over the past month. Perlan 2 should climb like a homesick angel above the Patagonia skies.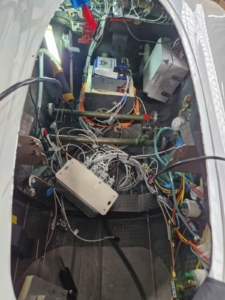 Meanwhile Morgan built (more) circuit cards, updated all the computers in CapComm, tested the antennas and re-installed his vibration exciters at the wing tips. He was part of the trouble shooting team for the satellite connectivity. Morgan and Armistead designed a huge repository with back up for our video downloads. The wiring on the Perlan 2 illustrates how complex our systems are.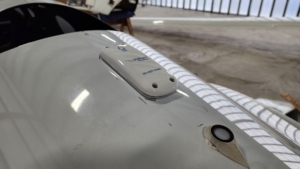 Mike Malis installed the new Iridium satellite antenna, helped with rigging improvements, got fresh composite supplies, fabricated an optical sensor for the spoilers, made new tow ropes, and ordered many spare parts. The broad range of skills Mike contributes to the Perlan team is impressive, as are all our volunteers.
Alan Murray totally re-fabricated the plenums protecting the front eyeball windows from frost inside the cockpit. It's exacting work to get a perfect fit with better quality thick foam to seal. The tiny heaters had to be re-installed inside the plenum air pockets. It's a great thing to be able to see the horizon so far below, but even better to see the runway before landing! He also made air scoops for the non-pressurized portion of the tow. With the tiny windows the workload to keep sight of the Egrett towplane is incredible. Yet the pilots are dressed for the intense cold. So cool air on the back of Jim's neck is important for comfort while non-pressurized.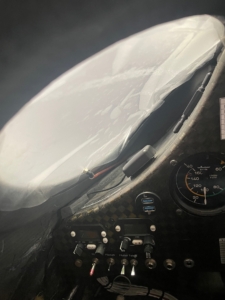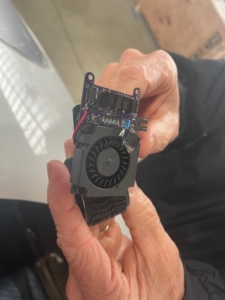 Stewart has done so much in the hangar. He wired and fixed electronics. He installed instruments and science equipment. He cleared out the container almost single handedly so we could inventory everything. He moved 1,600 pounds of container legs before the rest of us showed up one morning. (He's an early riser.) If there's work to be done, Stewart is there. Elizabeth Tattersall has breathed life back into our weather balloon team. There's a sub-group of them updating computers and drivers, chasing down iMet software keys and generally bringing an older system back after 4 years of dormancy.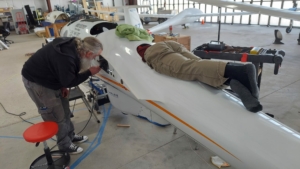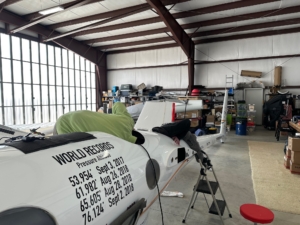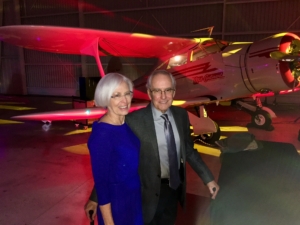 Ed and Linda Warnock have kept Perlan looking forward to this campaign. Ed as CEO handled insurance, completed inventory, registered the trailer, completed paperwork necessary for Perlan's customs package for temporary importation to Argentina. Inventory was a huge deal. After 4 years of dormancy what do you have, where is it and does it still work, or is it expired? Linda and Sandra helped to run the inventory marathon. Linda re-activated our team clothing account and ordered Perlan branded gifts.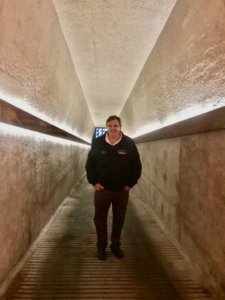 Tago De Pietro covered the logistics in Argentina. He communicated with our import broker from Hartrodt Jorge Caliri, and with Paco from our trucking company Tribal. He reconnected with our preferred lodging in El Calafate –  Eduardo from Santa Monica Cabins and Fernando from La Torre apartments. He set up rental cars with Servi-Cars. He also set up bond insurance with Alba Caucion. Tago makes sure all runs smoothly while in Argentina.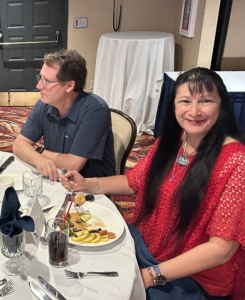 Sandra Sandercock set up meetings with new authorities in Buenos Aires.  She coordinated flying insurance. The Warnocks and Sandercocks will go to Argentina early to set things in motion. Sandra and Elizabeth Austin applied for a research permit from the National Parks system. Sandra coordinated the application for use of cameras at the airport. She also guided the security applications with the Air Force, LADE, and PSA.
Armistead is our go-to tech specialist. He wrote the script to interface various weather forecasting systems so Dan Gudgel could more easily give a weather brief each morning. Armistead came to Minden where he inventoried all cameras, bought new batteries, created a spreadsheet of camera names and passwords. He updated all flight tablets used in the cockpits. He assisted the Thales troubleshooting team and the weather balloon team. He was even cross-trained to run the CapComm systems. Every night his report was "this is fun."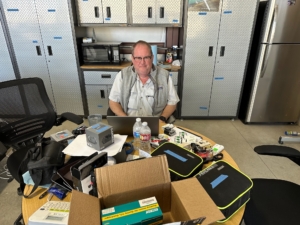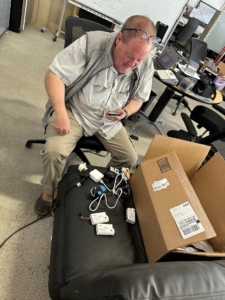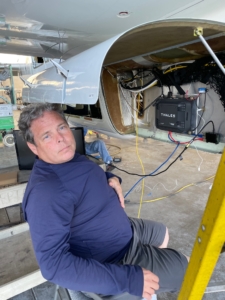 Michael Batalia lead the years-long search for the holy grail of real-time photos and video from the airborne Perlan 2. It was his vision that brought Thales onboard for aviation history. Then he helped bring Iridium and Videosoft into the mix. It's a match made in heaven…..or at least the stratosphere.  Michael assisted the weather balloon team troubleshooting the system. He helped interview interns while being interviewed himself for a new chapter in his life.
Osvaldo Ferraro is our volunteer in Buenos Aires. Perlan Project legally brings our glider into Argentina. It takes a lot of coordination to do it right! Faldi has once again applied for and coordinated a letter of invitation with CADEA which is part of our customs import package. He also helps to coordinate the NOTAM to fly above Patagonia. And he makes sure Perlan has permission to overfly Chile because the border is very close to where Perlan 2 soars.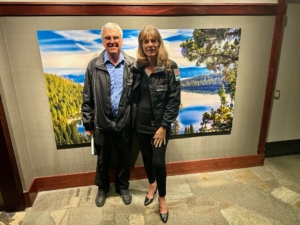 Jim Payne is Chief Pilot and Chairman of the Board. These are some serious responsibilities for a volunteer. He is totally involved in all flying activities, test prep and reports, all hangar activities, and keeping track of tasks completed as well as tasks unfinished. During Perlan's dormant years he kept the team cohesive with ops calls every 2 weeks and now weekly. That way everyone knew of the behind the scenes progress that Perlan continued to make toward our goals, even when we were not able to go to Argentina.
Jackie Payne has reactivated all our logistics contacts. She has coordinated export, import, customs, trucking, cranes, cargo vessels, container prep and certification, packing, acquiring fresh supplies, decals for glider and container, Official Observing, lodging, rental cars, High Altitude Flight Recorder calibration, Egrett logistics, helicopter rescue, and health policy discussions. She also facilitated intern selection. Jackie takes photos and shares "all things Perlan" with the blog.
Am I singing the praises of a volunteer team? Yes! This behind the scenes activity is how you SAFELY set world altitude records in atmospheric conditions never before explored from a remote area of our planet. Stay with us as we continue our journey, onwards and upwards in 2023.
Perlan Soars, Jackie