Perlan 2 Flies at Minden
Airbus Perlan Mission II is preparing to soar high over Patagonia once again in 2023. Perlan Project was on hiatus during the Covid era 2020-2022. To be ready to soar again in the stratospheric wave above 40,000 feet we needed Return to Service flights from Minden. That was accomplished in April prior to packing the container.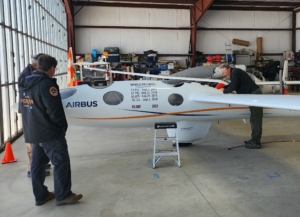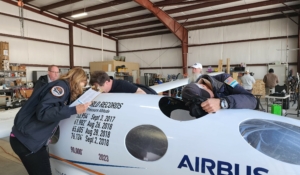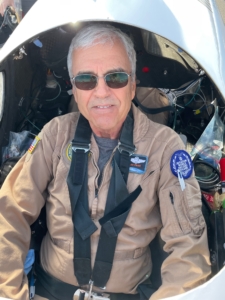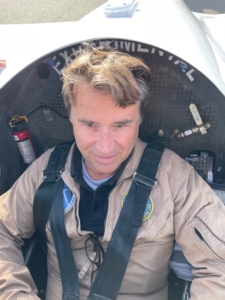 The first Minden flight was April 8 with Jim Payne and Miguel Iturmendi. With our two test pilots aboard there was a plethora of tasks on the test mission card. Tim Gardner, Stewart Tattersall and Jackie Payne were ground crew. Morgan Sandercock was CapCom.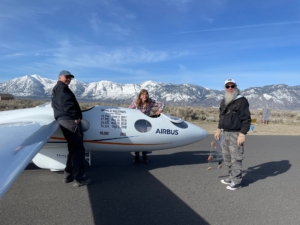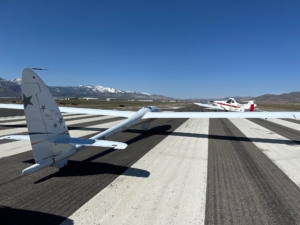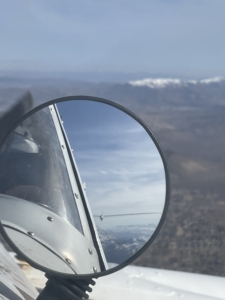 Tow pilot was Dan Flynn who took some video and a "Perlan in your rear view mirror" photo.
They took off in the morning to make use of the still air to gather data from flight instrumentation. The flight went well and Perlan2 was back in the hangar by 10:15.
A few days later on April 13 it was time for Jim Payne and Morgan Sandercock to fly. Since Morgan is the Chief Engineer the test card was full of engineering checks like his vibration exciter to test for flutter dampening. Armistead Sapp was CapCom with Stewart and Jackie as ground crew. Anders Clark from Soaring NV came out to help with the launch. Dana Peirson was the tow pilot.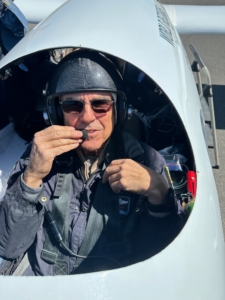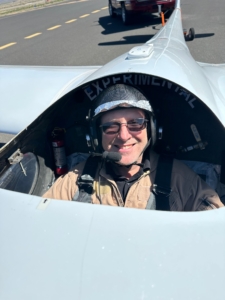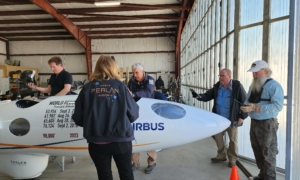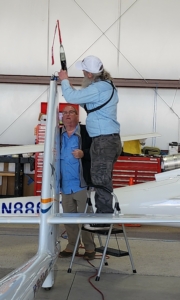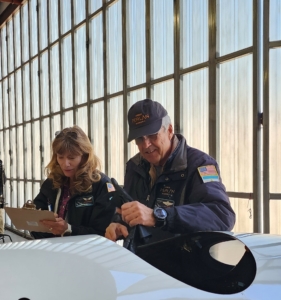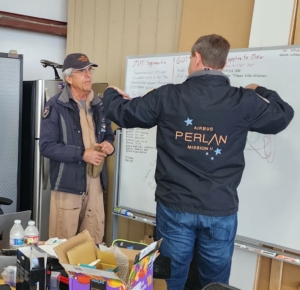 On this day Jamie Darcy could be with us for a fabulous photo chase mission over beautiful blue Lake Tahoe crowned with the sparkling snow-covered Sierras. Jamie knows his way around ariel photography! Tim Gardner was the photo chase pilot. Tim was set up so they could video the launch. As he lined up with the runway Tim called "launch in 15 seconds." At the "release brakes" call Jim wagged the rudder and Tim said "go,go,go." Upon which Dana promptly echoed "go, go" and started her roll. After releasing above Lake Tahoe, it was intriguing to hear Tim on the radio relay to Jim "climbing right break in 3" and Jim respond "climbing right in 3-2-1. Break." Jamie's shots were stunning and so well composed on the fly (so to speak.).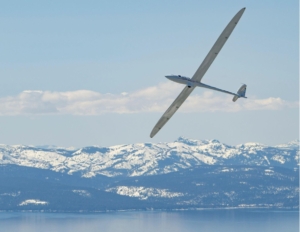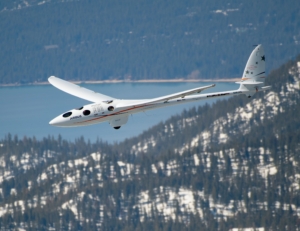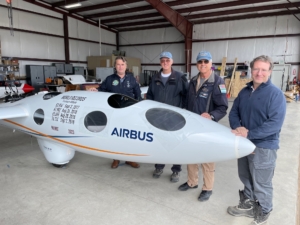 After the second flight the team was pleased with the operations of the Perlan and its systems. The team decided that the Perlan was ready for shipment to Argentina and commenced packing.
For a behind the scenes video of flying see Perlan's YouTube channel  https://youtu.be/SaanbsupBPY
For the professional video with more fabulous shots and interviews see https://youtu.be/zU5H8hgd_VE
Perlan Soars! Jackie